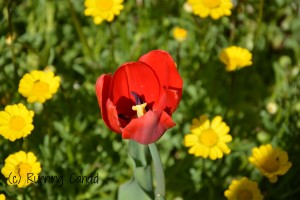 So, baby J is teething which means he's getting tearful before his naps and bedtime. It makes me want to cry cause I hate seeing him in discomfort but that's the stage he has to get through. Then there's hubby, sick with a sore throat and ear, a possible infection, home sick and lying in bed. Those two wines the night before were a bad idea. What happened to the days where I could drink a bottle and not feel a thing the next day? Gone, vanished, never coming back again.
Regardless of how I feel or those around me feel, I did manage twenty minutes of yoga this morning. My 365 daily yoga practice challenge is on a row. For four days in a row, I've managed 20 minutes each morning. I feel good. I don't know whether it's the yoga or the fact that it's the beginning of a new year or it's summer and a scorcher most days of the week, but all I'm craving during the day are healthy foods. I want to drink smoothies (mango, banana, berries with greek yoghurt, almonds and chia seeds), fruit and veg juices (kale, spinach, beetroot, ginger, apple, carrot, celery), I want to eat salads (grilled chicken, lettuce, tomato, cucumber, cabbage). I like it.
Surprisingly, my weight is down to around the 57-58kg which is about 1.5kg lower than my pre-baby weight. I suspect that muscle loss could be to blame but then again carrying a growing infant around will help with developing strong biceps, triceps, back and abdominals. I'm not complaining.
The yoga challenge, why am I bothering? Well, I've been meddling with yoga for years now but never took it too seriously. I love the benefits it offers. I love how it makes me feel during and after a workout. It's working on your physical and mental wellbeing in one. Flexibility, strength, balance, breathing, you're paying attention to all four and forgetting everything else around you. Ok so maybe I can't forget everything as generally baby J is beside me playing but I'm sure you get the gist.
Then there's the sedentary lifestyle issue. My primary job involves sitting on my backside for 8 hours a day, five days per week, then another 3 hours commuting. So I'm spending at least a third of my week on my butt. Runner's World reported that sitting has become the new smoking, that's bad news for many of us. So I really need to counterbalance the sitting with some physical activity that will benefit my backside and my spine, yoga is a great option, so is running, swimming, cycling and weight training. I'll add them too, but yoga practice is number one priority for 2015.
Have you set yourself any challenges for 2015? Why are they important to you?