Swim, Bike or Run?
What's your favourite leg of the triathlon?
I like them all but I'm most comfortable with the run.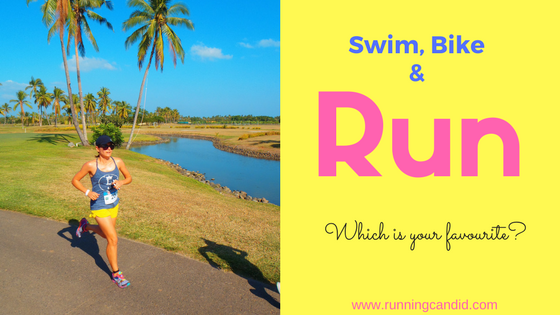 The swim is great because it's the shortest and you get it out of the way quickly. With a swimming background I simply need to add a couple of sessions a week in the pool to bring my fitness back up to scratch.
The bike is my weakest leg but I'm planning on working on changing that in 2017. Lots of cycling planned for this year both on the road and on the turbo trainer. I'm aiming to log a few thousand kilometres this year.
The run I love. It's the easiest. Running is something that I've been doing for a long time. It feels natural. Even after having swum and cycled, I can hold my pace on the road and fully enjoy it (yes, it still hurts). But the problem with running is that it's easy to get overuse injuries which can prevent you from pounding the pavement.
Maybe that's why I love triathlons. They say variety is the spice of life but it also adds balance by working different muscle groups and hopefully preventing overuse injuries.
Next Sunday is my first triathlon since having my son three years ago. I've been slow to get back into it and have had different priorities during this time. Now I feel the itch again to compete for fun and fitness. I'm looking forward to it, although it seems I've pinched a nerve in my neck, fingers crossed it's all good by the weekend!
Do you do triathlons? Which is your favourite leg & why?